Post by ~KB~ on Jan 12, 2018 19:31:59 GMT -5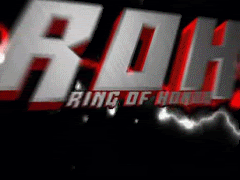 There's been 28, 24 different, ROH World Champions and 16 of those men have been brought back to decide who is the
BEST IN THE WORLD
and deserving to call themselves...............................
ROH WORLD CHAMPION
.
Card #1
Nationwide Arena
Columbus, Ohio
BEST IN THE WORLD
- Round 1 -
JAY LETHAL
1 defeated RODERICK STRONG 3 via pin
- Lethal dominated early but Strong almost stole the victory after a Sick Kick.
- Lethal battled back and won with two straight
Lethal Injections
!
MICHAEL ELGIN
defeated CHRISTOPHER DANIELS 3 via pin
- The Fallen Angel could mount no sustainable offense against the powerhouse Elgin and was almost put through the mat with an
Elgin Bomb
!
HOMICIDE
1 defeated JAY BRISCOE 1 via pin
- A Jay Driller almost ended this one quick, but Homicide managed to get a foot on the ropes.
- A brawl on the outside left Briscoe weary and easy pickings for
Da Gringo Killer
!
ADAM COLE
defeated DAVEY RICHARDS 3 via pin
- A Panama Sunrise, second rope Canadian Destroyer, ended a VERY one sided match.... WOW!
BRYAN DANIELSON
defeated EDDIE EDWARDS 3 via pin
- It was a Final Countdown for Eddie, as he was able to force a rope break on the Cattle Mutilation but
MMA Elbows
put him down for the count...
NIGEL MCGUINNESS
1 defeated TYLER BLACK 3 via pin
- Black was in control early and scored a near fall after a Buckle Bomb/Super Kick.
- Tyler, perhaps too over confident, lost control of the match and was never able to get back on track.
- Once on offense, Nigel was relentless! After battering Black with high impact move after high impact move, a
Jaw Breaker Lariat
almost separated him from his boots!
KEVIN STEEN
defeated AUSTIN ARIES 1 via pin
- Wrestling's Worst Nightmare destroyed A-Double, putting him down with a Sleeperhold Suplex and then finishing him off with an
F-CINQ
!!!!
JERRY LYNN
defeated DALTON CASTLE 1
- Lynn made it look easy and almost broke Castle's neck with a
Cradle Piledriver
!
------
NEXT
------
Card #2
Nationwide Arena
Columbus, Ohio
BEST IN THE WORLD
JAY LETHAL vs. MICHAEL ELGIN
HOMICIDE vs. ADAM COLE
BRYAN DANIELSON vs. NIGEL MCGUINNESS
KEVIN STEEN vs. JERRY LYNN
LETHAL/ELGIN vs. HOMICIDE/COLE
DANIELSON/MCGUINNESS vs. STEEN/LYNN
FINALS