Post by EpicDave on Jun 9, 2020 19:36:47 GMT -5
Heartland Championship Wrestling proudly presents: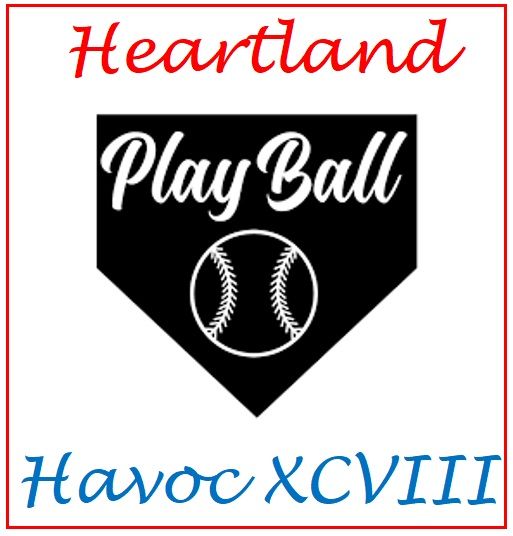 June 6, 2020
Tim McCarver Stadium, Memphis, Tennessee
The show opens with the tune, "Centerfield" by John Fogerty playing over the sound system at the ballpark. EPICDAVE emerges from the home dugout and makes his way to the ring, waving to the cheering fans.
EpicDave
: Hey, fans! Welcome to
Heartland Havoc XCVIII: Play Ball.
There's plenty of crying without baseball- but that's why wrestling makes the world go 'round. And here in Memphis, wrestling reigns supreme. And in the history of Memphis Wrestling, there is one voice that stands above all others. Please welcome our guest for tonight's event, the one and only
LANCE RUSSELL!
The fans cheer wildly as Lance comes out of the dugout.
Lance
: Well! What a fantastic crowd and a wonderful reception. It is a privilege to be part of tonight's broadcast. I am truly excited to watch
THE STEINER BROTHERS
get their rematch for the
NWA World Tag Team Championship
against
DICK THE BRUISER & THE CRUSHER.
You talk about a bunch of hard-hitting professional wrestlers? Look no further.
EpicDave
: Yes, sir. We've also got two regional titles on the line tonight.
RICK RUDE
is defending the
Atlantic Heavyweight Championship
against
DUSTY RHODES,
and
NICK BOCKWINKEL
will have his hands full defending the
Pro Wrestling Mid-America Championship
against
VADER.
Lance
: Outstanding! And I am also looking forward to seeing
MAGNUM TA
team up with
THE ROAD WARRIORS
to face off against
ARN ANDERSON, TULLY BLANCHARD, & RIC FLAIR.
Magnum has waited a long time to get his hands on Flair!
EpicDave
: You got that right, my friend. We are going to be locked and loaded here tonight. And, you will be able to catch the six-man match and all three title matches on the
Epic Sports Broadcasting Network.
So relax, grab yourself a cold one, and enjoy the show!
PWMA Grudge Match
BOB BACKLUND vs. MICHAEL 'P.S.' HAYES
The opening contest was a contrast in styles as expected. Hayes brawled and took the fight outside the ring as often as possible. Backlund countered with his superior ground game and a series of submission holds to weaken Hayes. As the match wore on, Backlund began to dominate, and it looked like Backlund was on the verge of winning the bout with a Boston Crab. But
TERRY GORDY
came to ringside and distracted the referee, allowing Hayes to break free from the hold. Gordy slugged Backlund from outside the ring, knocking Backlund to the mat and allowing Hayes to take control.
Lance
: What in the sam hill? Get on out of here, Gordy!
Hayes took charge in the ring and dropped Backlund with a DDT, but Backlund kicked out. Gordy tried to interfere again, but
PEDRO MORALES
came to ringside and shoved Gordy to the ground! Hayes moved in for another attack on Backlund, but Backlund reversed Hayes and rolled him up into a Backbridge and scored the pin!
WINNER: BOB BACKLUND
After the match, Hayes caught Backlund off guard and drilled Backlund with an elbow to the back of the head! Both Morales and Gordy slipped into the ring, and a four-way brawl broke out! Gordy brought his PWMA Tag Team Championship belt into the ring and cleaned house! Gordy smacked Backlund across the head with the belt, then nailed Morales. Morales pulled Backlund out of the ring and ushered him away to safety.
Lance
: Thank goodness for Pedro Morales. He saved Backlund from a serious beating at the hands of those scoundrels.
EpicDave
: No doubt about it.
PWMA Grudge Match
VERNE GAGNE vs. DINGO WARRIOR (w/GARY HART)
Gary Hart's latest attempt to eliminate Verne Gagne once again fell short. Gagne was on top of his game and outwrestled Dingo at every turn. Dingo Warrior receieved a foreign object from Hart and clocked Gagne, but Gagne recovered and quickly took charge with a series of dropkicks. Hart tried to interfere, but Gagne dropkicked Hart off the ring apron and clamped Dingo into the Gagne Sleeper to finish the contest.
WINNER: VERNE GAGNE
Lance
: I hope Hart and Warrior have learned their lessons.
EpicDave
: Yes, sir. The outcome of tonight's match was never in doubt. And now, it's time for our first championship match of the evening!
Atlantic Wrestling Federation Championship
RICK RUDE (c) vs. DUSTY RHODES
Neither Rude nor Dusty pulled any punches tonight! Rude started quickly, hitting the Rude Awakening early in the match, but Rhodes kicked out and battle back, taking the match out of the ring to the infield grass. Dusty took control, but So Cal Val pulled Dusty's leg and Rude took advantage of the distraction and threw Rhodes to the canvas for a Camel Clutch.
Lance
: For pete's sake, can the referee get control of that woman?
Rhodes was hurting, but powered his way out of the clutch and peppered Rude with a series of jabs. Rude exited the ring, and the two men brawled all over the infield! Rude clobbered Dusty and slammed his face onto the steel steps. Dusty was dazed, but made it back into the ring ahead of the ten count. Rude moved in for the kill, but Dusty took Rude down to the mat and wrenched his right knee! Dusty slowed the match down and went to work on the leg, and moments later, locked in the Figure Four! So Cal Val shrieked, but was unable to distract the referee before Rude was forced to tap out!
WINNER AND NEW ATLANTIC HEAVYWEIGHT CHAMPION: DUSTY RHODES
Lance
: Holy mackerel- what a strategy! I don't think Rick Rude knew that was coming.
EpicDave
: You got that right- and we have a new
Atlantic Heavyweight Champion!
Congratulations to Dusty Rhodes for an outstanding victory! And fans- our AWF action continues next with a very heated Six-Man Tag Team Grudge Match.
Six-Man Tag Team Grudge Match
THE ROAD WARRIORS & MAGNUM TA vs. ARN ANDERSON, TULLY BLANCHARD, & RIC FLAIR
Under the watchful eye of
JAMES J. DILLON,
the Horsemen executed their strategy to perfection. Magnum started the match for his squad, desperate to get after Flair, but Anderson and Blanchard controlled the match and beat down Magnum with double-teams. Flair picked his spots to do his damage, and the Horsemen isolated Magnum and wore him down. After several minutes of damage, Magnum finally was able to tag out to Hawk. Hawk and Animal carried the load the rest of the way, but the numbers game wore them down and the double-team attacks of the Horsemen prevailed. Finally, Anderson and Blanchard executed a double-team Gourdbuster on Hawk and the Enforcer made the pin.
WINNERS: RIC FLAIR, ARN ANDERSON, & TULLY BLANCHARD
After the match, Animal and Hawk were still in a fighting mood, but the Horsemen scattered and celebrated their way back to the visitors' dugout to the boos of the fans.
Lance
: Well! Those Horsemen got the job done and didn't stick around for the aftermath.
EpicDave
: The frustration continues for Magnum TA. He took a beating tonight and never managed to get his hands on Flair. Flair is standing tall and proud as the
NWA World Heavyweight Champion,
and Magnum is going home to cry in his beer.
Pro Wrestling Mid-America Heavyweight Championship
NICK BOCKWINKEL (c) vs. VADER
After a tightly fought battle, it was Vader who took the Memphis crowd by surprise with a series of aerial attacks. Vader caught the champion by surprise with a pair of moonsaults which took the starch out of Bockwinkel. Bockwinkel staggered to his feet, and Vader came off the top turnbuckle with a perfect cross-body block for the victory!
WINNER AND NEW PRO WRESTLING MID-AMERICA HEAVYWEIGHT CHAMPION: VADER
EpicDave
: Congratulations to Vader- he is your new
Pro Wrestling Mid-America Heavyweight Champion!
What a performance here tonight in Memphis. Nobody is shocked that Vader won the title- but the way he pulled it off which those airborne moves was a surprise to everyone.
Lance
: I think Nick Bockwinkel is as surprised as anybody. Vader is a huge man- but he is a superb athlete and he showed it here tonight. Well done, big man!
EpicDave
: All right, fans- we hope you are enjoying tonight's broadcast of
Heartland Havoc XCVIII: Play Ball.
It's time for the Main Event!
Main Event: NWA Tag Team Championship
DICK THE BRUISER & THE CRUSHER (c) vs. THE STEINER BROTHERS
The World Tag Team Championship match was a slobberknocker in the true sense of the word! Dick the Bruiser pounded away on both Steiners, then tagged out to Crusher who slugged it out with Rick. Both sides worked their double-teaming effectively, but most of the Steiners' attack was focused on Bruiser. Scotty, the best athlete in the match, took control on Bruiser and flipped him to the mat with a beautiful Frankensteiner. Bruiser survived a Super DDT with an assist from Crusher, but Rick clotheslined Crusher out of the ring. Bruiser was left on his own, and the Steiners quickly finished him off with a Steiner Dog.
WINNERS AND NEW NWA WORLD TAG TEAM CHAMPIONS: THE STEINER BROTHERS
EpicDave
: Ladies and gentlemen, history has been made here in Memphis, Tennessee! The Steiner Brothers have regained the
NWA World Tag Team Championship!
Congratulations to Rick and Scotty for their second reign as World Champions!
Lance
: That was a thrilling match to watch. I think Dick the Bruiser and Rick Steiner just can't get enough of beating each other up. EpicDave, it has been a privilege and a pleasure to be part of tonight's broadcast. It's always great to be a part of Memphis wrestling!
EpicDave
: The privilege is ours, my friend. Thank you for joining us for
Heartland Havoc XCVIII: Play Ball!
And congratulations to all three of the new champions crowned here tonight. Kudos to
DUSTY RHODES, VADER,
and of course
THE STEINER BROTHERS
for their championship victories! All right, fans- we're done here. Thanks for checking us out tonight! Heartland will be back next Saturday night with more outstanding action. That's our show, and I AM OUTTA HERE!