Post by Vanimal on May 20, 2016 17:02:00 GMT -5
Flesh and Bones
10.17.2119 from the Caves of Primus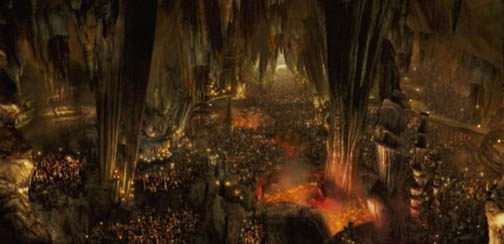 - Paganax Returns... -
A few days after the show in the Caves of Primus a livid Paganax returned and told his followers what he saw - Ravagers taking one of the creatures from the Isle of Non-Believers. Word spread quickly across the dimension with everyone offering their two cents:
Rankor called it "an act of war" and that the Ravagers had "no right".
Aegis countered saying "Rankor's attack on the Ravager Outpost was an act of war as was the cowardly attack on Centra Prime."
Rankor responded. "Well it seems the Ravagers and ROC are playing nice again, pathetic."
Murdok took it as "a sign of weakness" and that "the Ravagers know they are in a war they cannot win."
Nicodemus simply said "we have been studying the planets for years with no controversy whatsoever. These were scientists not soldiers." With the main event set between Nicodemus and Paganax things will be hotter than ever on Primus.
- What We See -
Same underground arena, same treatment by the Tribes of Primus; single file entrance one team at a time. The big difference this time are the fans who now consist of Primians, Centrans and Ravagers! For the first time this year Ravagers are venturing out to watch matches. At the behest of Nicodemus, Ravager fans are here to support their aCe champion! Nicodemus didn't stop there, he demanded that the main event be fought in a Circinus Cell. "I refuse my undoing be from something like a rock or boulder thrown by one of these savages! " The fans from Centra and the Mothership are more than happy to take the "floor seat" which they consider right in the action!
Corporal Tek vs. Grovel

Corporal Tek defeated Grovel with CORPORAL PUNISHMENT at 15:42
Match Rating
: 3.00
Match Notes
: Corporal Tek spoiled the opening match beating "The Primus Hype Man" in a hard fought battle. Tek is starting to find his footing in singles competition.
Darkness Falls vs. Cremator and Noxious

Krypt defeated Noxious with RED DAWN at 9:14
Match Rating
: 2.75
Match Notes
: Cremator and Noxious show more promise as a team but Darkness Falls win again.
- Mind Games -
Godsend grabs a mic as soon as he gets in the ring-
"Rouser this is your last chance. You can walk away from this and I will let you live. Don't waste my time, don't waste these idiots time. Remember, you are a loser. You're not in my league and you will get hurt."
Rouser didn't take long to answer. He hits the ring with a trashcan full of weapons and a sign that reads GODSEND,THIS IS WHERE YOU BELONG!
- Titan Death -Godsend vs. Rouser

Godsend defeated Rouser with THE REALM ETERNAL at 10:23
Match Rating
: 3.25
Match Notes
: Godsend almost ate his words in this one! He attacked fast and hard, bloodying Rouser with a chair shot to the head from the top turnbuckle almost immediately. Rouser refused to give up, nailing Godsend with a low blow and smashing him with a traffic sign! The Centra fans were on the edge of their seats as Godsend barely kicked out of two 2 counts. Once Godsend gained the upper hand he wasted no time in putting Rouser away. A 180 from the disrespect he had shown last time.
- aCe Tag Team Championship -The Specialists vs. The S.W.A.T. Team
Shepard defeated Warfare with SPECIAL FORCES at 12:57
Match Rating
: 3.50
Match Notes
: The match started as your basic fist fight with Scorch getting the better of Flatliner. Things turned to SWAT's favor when the big man got in there putting down Scorch and almost winning his second aCe tag title. Shepard made sure that this wasn't going to happen nailing Warfare with Silver Bullet. Flatliner made the save and was escorted out of the ring, The Specialists took this opportunity to nail SPECIAL FORCES and secure the win.
- Respect Earned -
Rouser is sitting in the RoC's designated "pit" getting tended to by a medic when Aegis and At-Lass approach.
"That was a hell of a fight, Rouser. You have nothing to be ashamed about" said Aegis.
"Thanks but I still came up short and..."
Lance cut him off before he could go on "You know what Aegis, I think he's earned it. When we re-open the Palladium, we're putting up your banner! You've come along way. We're damn proud."
Rouser took this opportunity to ask for something he's always wanted. "Hey, you guys think I could team with one of you sometime, an honorary member of Heroes United?"
Aegis looked at Lance, smiled and said "How bout next month?"
- 2 Out Of 3 Falls -Lance At-Las vs. PainMaster

Lance At-Las defeated PainMaster with an At-Las World Beater at 9:10
PainMaster defeated Lance At-Las with FACE-FIRST CRASH at 11:29
Lance At-Las defeated PainMaster with MARS MANHANDLER at 18:12
Match Rating
: 3.75
Match Notes
: Lance puts an exclamation point on his feud-ender with PainMaster. Painmaster tried every desperate trick in the book including pulling the ref in front of a flying elbow smash by At-Las. All the underhanded moves on Primus would not keep Lance from getting this win, putting him in the title picture.


General Rankor vs. Aegis vs. Murdok vs. Ventross

Murdok defeated Ventross with CENTRA TAKEOVER at 16:29
Match Rating:
3.75
Match Notes
: Ventross suffers another crushing loss. Murdok took advantage of Aegis and Rankor trying to destroy each other (to everyone's surprise Aegis attacked Rankor and not Murdok at the opening bell). Murdok beat Ventross senseless with his own shield softening him up for CENTRA TAKEOVER and the win.
- Circinus Cell -Nicodemus vs. Paganaxfor the aCe Championship

Nicodemus defeated Paganax with NUCLEAR WINTER at 17:12
Match Rating
: 4.25
Match Notes
: Nicodemus barely made it out of this match in one piece let alone with the championship. The match almost took a turn for the deadly as Nicodemus tried to throw Paganax off the top of the cage! Paganax countered with a Primal Scream that sent Nicodemus falling through the top of the cage crashing down to the mat! Paganax didn't relent smashing Nicodemus's head repeatedly into the cage sending blue blood flying. Nicodemus refused to lose though countering and nailing Paganax with 4 consecutive savatte kicks and a quick NUCLEAR WINTER for the win.
Overall Card Rating: 3.46