Post by ~KB~ on Jan 21, 2018 17:10:11 GMT -5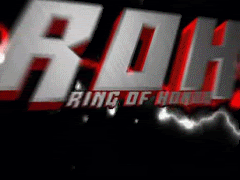 Card #9
BRIDGESTONE ARENA
Nashville, Tennessee
ROAD TO...
SUPER CARD OF HONOR
COMRADE TAYLOR 'The Russian Gentleman'
defeated
ROCKY ROMERO 2
An Awful Waffle ended a very one sided match, as both Koslov and Beretta were at ringside to support their partners, but neither interfered in any capacity.
MARK BRISCOE
2
defeated
BOBBY FISH 4
The Briscoes continue to dominate reDragon, as Mark gets the duke after a Cut Throat Driver!
Backstage, Louden Noxious is preparing to interview Tommy End, when Tommy is attacked from behind by Homicide! The Notorious 187 hit the down End with everything he could get his hands on. Finally security arrives and restrains Homicide, as EMTs check on the bleeding Tommy End.
JEFF COBB
defeated by
DQ
HANSON 3
War Bread could do noting against Mr. Athletic and became so frustrated he was disqualified for a using a chair after leaving the ring. The Chosen Bros have owned War Machine, both in tag and singles competition.
MICHAEL BENNETT
/w/ Maria
defeated
KENNY KING 3
The Loose Cannon was a man possessed as he totally dismantled King before pinning him after a Piledriver!
KYLE O'REILLY
defeated
JAY BRISCOE 5
Armageddon.... nuff said!
---------------
MAIN EVENT
---------------
EIGHT-MAN TAG TEAM MATCH
AJ STYLES 3 & THE YOUNG BUCKS : MATT 1 & NICK JACKSON & KENNY OEMGA 2
defeated
ROH WORLD CHAMPION JERRY LYNN 5 & ROH WORLD TAG TEAM CHAMPIONS KINGS OF WRESTLING & ADAM COLE
Soon after the match started Adam Cole walked out on his team and disappeared into the back. Even a man down the champs held their own, but eventually the numbers wore them down. AJ scored the pin for his team after a Styles Clash on Hero, as the Bucks and Omega kept Lynn and Claudio from making the save.
After the match the Young Bucks dual Super Kicked Styles and then Omega gets him up for a One Winged Angel.... but is stopped by Jerry Lynn and the Kings!
The Elite retreat up the ramp as AJ regains his feet in the ring...... Lynn extends his hand to Styles, who accepts in a show of sportsmanship.