Post by mwjergs on Dec 28, 2018 22:50:56 GMT -5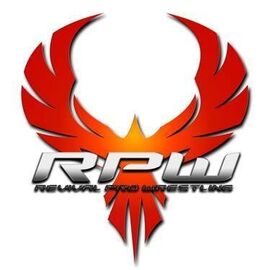 Revival Pro Wrestling
Dover, DE
January 4, 2014
RPW #1
(Ring Announcer
Eric Miller
stands before the crowd.)
EM: Ladies and gentlemen, welcome to Revival Pro Wrestling. You are here on this historic night to witness the first event in this promotion's tenure. We plan on bringing you the best in professional wrestling each and every event.
(The proceedings are interrupted by Sidney Bakabella and all three members of the Devastation Corporation- Max Smashmaster, Blaster McMassive, and Flex Rumblecrunch.)
SB: Hold it, Mr. Microphone don't kill the town on opening night. Me, myself and I will take it from here. Sidney Bakabella, manager of champions is here and with me are the three most destructive men on the face of the planet. And you can take that--- to the pay window.
EM: May I introduce the first match of the evening. Just coming down the aisle - the Devastation Corporation. And their opponents - The Hooligans, Brian Kendrick and Paul London!
1)
The Hooligans
(Brian Kendrick & Paul London) and
Devastation Corporation
(Blaster McMassive & Flex Rumblecrunch) (w/ Sidney Bakabella & Max Smashmaster) fought to a Double-Countout in 11:33.
-a strong first match for the fledgling promotion. The power of the Corporation started quickly until the vet team took over with speed and aerial agility. Kendrink hit a huge moonsault the floor and soon all four men were brawling towards the back.
2)
Flip Gordon
pinned
Scorpio Sky
with Samoan Pop and shooting star press in 3:09.
-The young Gordon was impressive to take control of most of this match against the more experienced Sky.
3)
The Classic Connection
(Buddy Royal & Levi Shapiro) beat
N_R_G
(Hype Rockwell & Race Jaxon) when Royal pinned Rockwell with Bombs Away in 14:51.
-Jaxon hit the Launch Board on Shapiro and only got a two count. Royal then distracted Jaxon and hit a neck snap that sent him backwards. Rockwell charged the ring and Shapiro tripped him up allowing Royal to ascend to the top rope and finish the match with a Bombs Away.
4)
Drew Galloway
pinned
Lio Rush
with the Ego Trip in 6:35.
-Rush provided high flying athleticism but was no match for Galloway.
-Triple Threat Match- Main Event-
5)
Jeff Cobb
defeated
WALTER
&
Brian Cage
when Cobb pinned Cage with a Pumphandle Fallaway Slam in 18:09.
-Super Hoss main event to the close the first show. Fantastic power moves from all three men. This bout could have ended with any of the three getting the win but it was Cobb who outlasted them all and tossed Cage for the win.