Post by malicelover on Jul 18, 2022 8:00:39 GMT -5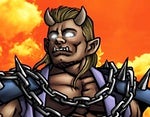 Arrived Friday night to a crowd of lifelong friends hanging in the lobby like Todd, Jim, Chad, TK, Marcus, Brian V, CMan, Zeke, Butcher, Matthew, Troy, Lisa, Steve Williams, Dayton Dave, Mike Fortune, Pete Fusco, Sam Luptak and Broc & his family.
Enjoyed meeting new friends (many from the board) like Drew, Sam Fain, Jared, Billy, Milton, Shaun, Barry and Barry's lovely wife (Barry insists he married up and he received no pushback on that from me).
Caught up w Smoke, Jmello & crew, Ramel and Reno Saturday morning. Told Josh Ramel that Surgeon was in the new set then enjoyed his disappointment once he realized I was clearly lying.
Obviously did horrible in the tournaments which was the first sign Troy was going to win the Cup again. Played 3 matches on Saturday and went 1-2 😫
Room was big enough to play tournaments and converse w friends but with nowhere to play my game, I didn't play my own fed all weekend. That was prob the biggest bummer, but I booked my Perennial and played as soon as I came home.
Was super nice not having to go anywhere for anything. Bar was great. Food was good. No issues at all. Matt is a border line alcoholic now which is an interesting new storyline. He made it his goal Friday night to drink every drink on the menu and I think he did it. He kept pushing the ketchup toward me, which Matt thought was hilarious - and after a few warnings I was forced to squirt him w the ketchup. Matt didn't push the ketchup toward me after that.
Let's see what else, Friday night in general was a blast. Hanging out w Chad Olson is a ton of fun. Lots of funny stories and just a an overall good time. Apparently I'm out of the loop on everything because I don't listen to the podcast. I was reminded no less than 20 times that night of my mistake.
Walked in Sunday morning and the taco 🌮 bar from the day before was still there. So….might have set a new record there for the the foulest smelling GCON Sunday ever…….
Watched a guy blow through the security gate at the toll booths and the gate went flying up in the air. Never saw that before.
I hate goodbyes, so snuck out Sunday about 11 after getting stomped in the Canada Cup. Rather just say hello again next time.
Pretty good Con!
I'm sorry I missed Pete vs Butcher II. That tattoo is going to look great! Can't wait to see what you two come up for next year for round 3.
I hope I didn't forget anybody!
Enjoy all the new stuff, especially 2138, and never forget that the dice don't lie!
🎲 🎲
Swarm
, you forgot the other big part of the bar experience - the fact that you learned that a White Russian might be a beer.