Post by Justin Case on Jun 16, 2012 20:22:50 GMT -5
Rings of Saturn Card 2. Assassin Island, Achenar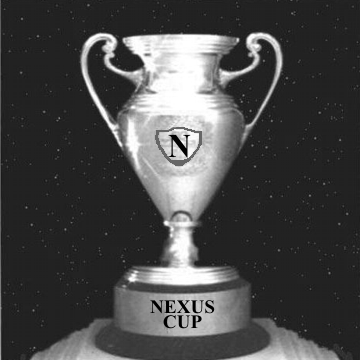 Welcome to Assassin Island in Achenar! Mot and Kram at ringside with the Master Assassin at ringside to help with commentary! We continue the coverage of the Nexus Cup. Also, our Main Event features Harm vs. Virus! Let's head the ring for our opening bout!
NEXUS CUP QUARTER FINALS
Titan Bulldogs vs. Armistice
Titan Kid defeated Clutch early with a snap suplex!
NEXUS CUP QUARTER FINALS
Road Agents vs. Titan Turncoats
Titan Turncoats get the win with a little assist from Duplos as they double teamed Darmody outside the ring and he got counted out.
NEXUS CUP QUARTER FINALS
Arial Foundation vs. Second Coming
Great contest between these two. Turbo took a big beating and then came back to give Second Coming a taste of their own medicine. Flash nearly defeated them with a TURBO DIVE on Caelum, but Keller made the save. Arial Foundation just couldn't keep the momentum as Darian Caelum hit a Tornado DDT on Turbo to get the three count!
NEXUS CUP QUARTER FINALS
Empire Elite vs. Sons of Capricorn
Empire Elite rolls defeating Sons of Capricorn with THE RISE AND FALL on Ibex.
Mot and Kram give a promo for an upcoming Territory event....
What is this? Someone has interrupted the satellite feed? Turns out the Master Assassin had the incoming signal blocked! "The only thing people need to concern themselves is right here...Assassin Island! There will be NO PROMOTING of other territories here! Rather, I will promote the grandest prize in the galaxy! Right here......."
The Death Masque. The greatest trophy and highest honor an masked assassin can gain! You are not just given an opportunity at the Death Masque! You have to EARN IT!!! Prove that you are worthy of being the greatest assassin to represent the Assassin Army! How you ask? By taking out as many of our enemies as possible! Then and only then will you be considered the deadliest of all assassins!!!
TITAN DEATH MATCH
Dragonlord vs. Blood Angel
Blood Angel surprised Dragonlord with a turnbuckle rollup.
Exzcutioner vs. Quietus
Outstanding match up that went back and forth with multiple pinfall attempts by both! Exzcutioner gets the final blow in using THUMB SCREW to get the win!
The Mad One vs. Nightmerica
The Mad One defeated Nightmerica with ONE WITH MADNESS.
Harm w/ Death Knight 3 vs. Virus
Virus nearly got the win with PANDEMIC, when Death Knight 3 wanted to interfere. Master Assassin stopped DK3, ordering him down. Master Assassin then interfered instead saying "I can't rely on you (DK3), I'll do it myself!!!" That momentary distraction, allowed Virus to clothesline Master Assassin off the apron unto the floor and then Virus hit a flying crossbody block on Harm to get the win!
That's all for tonight fans! Next we head to the Phobos Sundome on Mars! We'll finish the coverage of the Nexus Cup Semi Finals and Championship round!
Nexus Cup matches are:
Titan Bulldogs vs. Titan Turncoats
Second Coming vs. Empire Elite
Also scheduled will be Death Knight 3 to be in action!
Also Assassin X takes on Xymbiote
And in our Main Event. Newly crowned Steel Champion Dogma will face off against Lightning Mike Quackenbush!
Some really great looking match ups! You don't want to miss that fans! We'll see you on Mars! Goodnight Everyone!