Post by FRONTIER HQ on Nov 30, 2011 2:46:45 GMT -5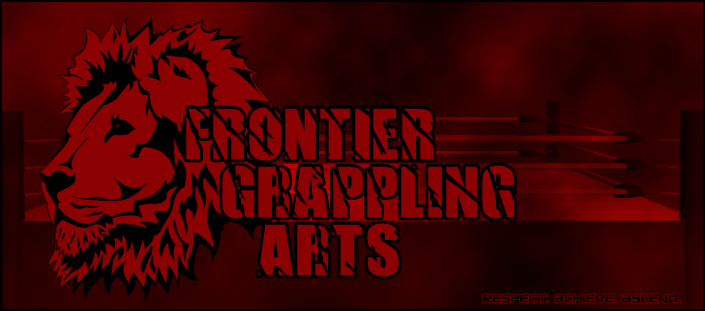 When We You Open:
Founded in November 2011
Real or Original Wrestlers:
Original Wrestlers
Why You Should Join Our Fed:
Well, just to give you some background on me first. I have roughly ten years of fed-head experience, running Connecticut Forum Wrestling from June 2000 through October of 2010. Within that time span, there were only two breaks: a hiatus in October of 2003 (entering my freshman year of college) and in May of 2008 (the month I graduated college). I have been able to run a consistent federation amid high school, college, internships, jobs and various other real world activities. My results have been extremely consistent and very easy to read. And I've always gotten good reviews from other fed heads/handlers. I like to promote an environment where everyone feels welcome and everyone feels like they have something to do, whether they're a "main eventer" or an "entry"/"lower card" wrestler. I think I'm pretty fair and will give anyone a reasonable shot as long as they put the effort in (that's all I ask, really). I've always been very reasonable when it terms to scheduling people. I know first hand the balancing act of trying to balance real life with e-fedding. So I try not to schedule guys week after week after week, helping to prevent them from getting burnt out. And all in all, I just like to have a fun, relaxed environment. Yes, this is technically a game and we all want to win. But at the end of the day, as long as you're surrounded by good people, a good staff, and you're having fun in a positive environment, then that's all that should matter. That's the type of environment that I've helped to cultivate in the past and will, hopefully, be able to once again create in the future.
Now, onto the fed itself....
Frontier Grappling Arts (stylized FRONTIER Grappling Arts) is an American independent promotion based out of the Northeast region of the United States. FRONTIER will host the majority of its events out of the Mid-Atlantic States (Delaware, Maryland, New Jersey, New York, Pennsylvania, Virginia, West Virginia and the District of Columbia), as well as parts of the New England states (Connecticut, Massachusetts and Rhode Island). Here at FRONTIER, we believe in substance over style. So you will not see the over the top antics and dramatics that you will see in other promotions. All the excitement and action will take place in the ring, where we will bring you quality in-ring action that is unparalleled anywhere else. FGA hopes to bring back quality wrestling and present it in its proper perspective, as opposed to it being presented as "sports entertainment" or a "male soap opera action drama" elsewhere.
Mission Statement
"Respect. Achieve. Ascend. Those are the three words that best describe the atmosphere of FRONTIER Grappling Arts.
Respect.
You don't have to like everyone in that locker room. You don't need to shake every opponents hand. You can hate everyone as much as you like. But at the end of the day, we hope that you will not only respect each other as great athletes who put their bodies on the line, but will show respect and appreciation for this great sport.
Achieve.
This is rather open ended. What is it that you want to achieve? Greatness? Championships? Accolades? Or a better understanding of the wrestling business? FRONTIER aims to help you achieve whatever goals you have set out for yourself.
Ascend.
"Achieve" and "Ascend" pretty much go hand in hand. We want everyone on this roster to become the best athlete that you can be. We want to help everyone step up their game and master their craft.
General Information
FRONTIER Grappling Arts is based out of the Northeastern section of the United Sates.
FGA doesn't have a television deal, be it cable, network or syndication. Instead, our shows will be taped in front of a live audience. They will then be edited and streamed via the company's website. As we grow over the months & years, we hope that our fanbase will be able to see us by simply turning on their televisions. But in the meantime, online streaming, as well as various cable access stations throughout the region, will have to do.
FGA does not hold Pay Per View or even Internet Pay Per View events. Instead, we will host "supershow" events. These "supershows" events will be like our normal cards, but they will just be longer. Each regular taping is between 60-90 minutes. These supershows, however, can run anywhere from 120 minutes to 180. These events will later be edited and will be made for sale on DVD via the company's website.
Championships
To date, FGA only has one main championship, which is called the FGA Heavyweight Championship. In time, we hope to add another singles championship, as well as a tag team championship.
Match Information
In FGA, matches can be determined via the following decisions:
-
Fall
, or pinning an opponent's shoulders to the mat for the referee's count of three.
-
Give Up
, or submission victory, which sees the wrestler either tap out or verbally submit to their opponent.
-
Knockout
, the failure to regain composure at the referee's command
-
Ring Out
, the failure of a party to return to the ring at the referee's command, which is determined by a count of twenty. Also referred to as "Count Out".
-
Disqualification
, the act of one wrestler breaking the rules.
All standard matches are contested under 15, 20 or 30 minute time limits.
All championship matches will be consisted under 45 minute time limits.
Ringside/Backstage Areas
FGA tends to host its events in smaller venues, such as gymnasiums, community centers, event centers, rec centers, ballrooms, etc. We do not have a stage, jumbo-tron, pyrotechnics, flames and various other elaborate entrances. We do, however, have a black curtain, small ramp, as well as lighting effects and a small smoke machine.
Four black placement mats surround the ring for the wrestler's protection.
One small set of ring steps sit on the opposite side of to the end of the aisle.
Description of our ring:
- Black ring ropes
- Red turnbuckle pads
- White canvas (The FGA logo is in the center of the canvas)
- Black ring curtains go around the ring, with the FGA initials placed on them in red lettering.
FGA only has one commentator. All commentary is done at a table that is backstage, not at ringside.
Additional Information
FGA only has one show, which runs on a weekly basis (Wednesday Weekly Combat)
FGA aims to host its supershow events every month and a half (or roughly every 6-8 weeks).
FGA is a roleplay-based fed. That means that all results are predominantly chosen on the quality of roleplays. However, there are instances where an angle will factor into the outcome of a match. Though that is solely dependent on all parties agreeing to the angled finish.