Post by Vanimal on Feb 6, 2022 17:39:10 GMT -5
...Solaris watches on wondering what he has done as Kronos has officially become a war zone!
"ENOUGH!" Solaris screams sending out a blast of energy that puts everyone down.
"I wasn't planning on a fight card today but you have forced my hand! I have created a match that will determine the first King of Kronos!"
Solaris walks away to prepare. Instantaneously Johnny Rocket receives a message on his phone.
"Here is how this is going down." Johnny started. "The hero's and villains will each pick 10 men to compete, the 4 independent wrestlers will also be involved. You have 20 minutes to prepare for the KRONOS PORTAL MATCH."
THE KRONOS PORTAL MATCH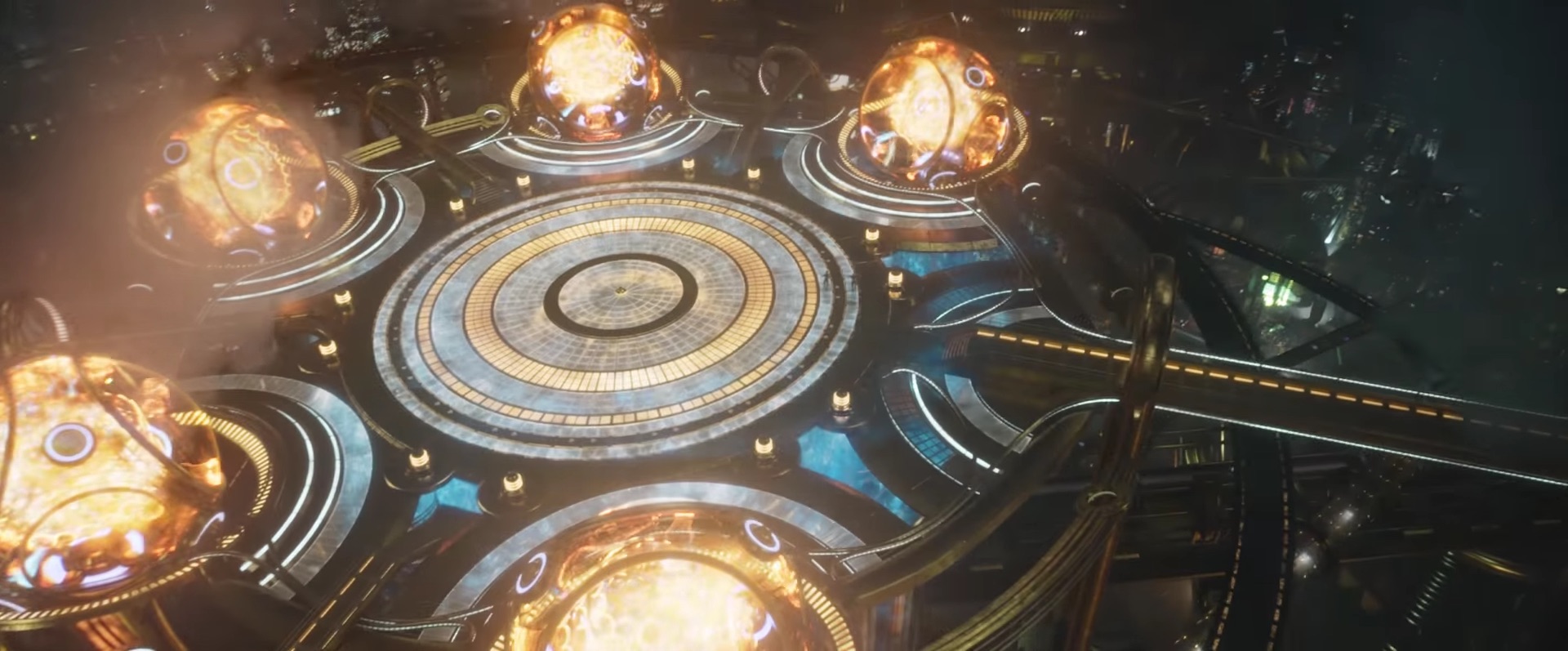 The ring was removed for the Battlefield. A long circular area with no ropes or turnbuckles. We are told if the need for ropes or turnbuckles arises they will appear. Four will start with wrestlers entering at different time intervals. Portals are open at different points around the Battlefield. The goal of the match is to throw the opponent through the portal for possible elimination. Pin or submission is also permitted. Here are the wrestlers slated to compete.
Heroes

Infinity Raven Swarm Pegasus True Blue
Cosmos Avenging Force Tauran Density Blazing Holocaust
Villains
Infinity-Plex Spike Psyclone Jupiter Honos
Cupid Olympia Nightmare Rhea Mensar
Independent
Solitude Nikolai Bobby Lee Thriller
The first four to enter -

Avenging Force Rhea Cosmos Nightmare
Avenging Force and Rhea lock up as do Cosmos and Nightmare!
Cosmos wastes no time hitting several Tornado Lariats to quickly eliminate Nightmare.
Avenging Force has Rhea reeling and elimination looks inevitable until
Psyclone enters at number 5!
Psyclone makes a b line for Avenging Force.
He takes some punishment himself but the end result is the elimination of Avenging Force through a portal!
Pegasus enters at number 6!
Rhea tries to get the upper hand on Pegasus but he fights back and brings it against the giant.
Bobby Lee enters at number 7!
Bobby Lee ties up with Cosmos in a battle of strength vs. agility.
Rhea is easily eliminated after Wings of Pegasus.
Solitude enters at number 8!
The former Minister of War comes in and decimates everyone, staying true to every man for himself.
Cosmos recovers and takes advantage of the situation making Psyclone tap to the Masterlock.
Bobby Lee also takes advantage of Solitudes brutality and throws Pegasus through a portal for a shocking elimination!
Mensar enters at number 9!
Mensar and Solitude go toe to toe! Solitude gets a shot or two in on Mensar but the beast shrugs them off and counters with brutal elbows and Wrecking Machine!
Mensar throws Solitude through a portal but another opens above the Battlefield dropping Solitude fifteen feet back into the "ring". Mensar picks up a limp Solitude and hurls him through another portal for the elimination.
Tauran enters at number 10!
The vampire immediately attacks Bobby Lee with fast strikes and sinks in BITE OF THE VAMPIRE but Bobby Lee fights back!
Mensar continues his assault this time against Cosmos
Jupiter enters at number 11!
Jupiter hangs back not in a rush to get involved quite yet.
Cosmos turns the tide against Mensar and gets a pin after a top rope elbow drop!
Jupiter finally gets involved attacking Cosmos.
Bobby Lee manages to slow down Tauran with a Survivor Slashing and throws him out of a portal!
Olympia enters at number 12!
Jupiter's older brother runs in and attacks Bobby Lee instead of teaming up against Cosmos.
That favors Cosmos who survives a beating to lock in the MASTERLOCK! Olympia could break it up instead he throws Bobby Lee up in an armless airplane spin! Olympia tosses Bobby Lee through a portal spinning but he comes back through landing fifteen feet back on the Battlefield hard! He's easy pickens as Olympia tosses him out again.
Jupiter can't hold on any longer and taps to MASTERLOCK!
Raven enters at number 13!
Olympia and Raven trade blows with Raven coming out on top until...
Honos enters at number 14!
Honos attacks Raven. His brother recovers and they put the boots to Raven
Blazing Holocaust enters at number 15!
It's W.A.R vs The Overmen with all four men trading blows! Honos and Blazing Holocaust are destroying each other!
Density enters at number 16!
Density makes the smart decision to attack the man in there the longest, Cosmos!
Cosmos sidesteps a charging Density who goes through a portal and is eliminated!
Swarm enters at number 17!
Swarm swings the tide in favor of the W.A.R boys attacking the Overmen and eliminating Olympia through a portal.
Honos tries to avenge his brother but goes through a portal himself and getting eliminated.
Blazing Holocaust shows no gratitude and throws Swarm through a portal and eliminates him!
Raven argues with Holocaust about the elimination when...
Spike enters at number 18!
The Aethran blindsides Raven with a forearm to the back sending him into his partner Blazing Holocaust.
Spike sends him through a portal but Raven ends up falling back into the Battlefield. Spike wastes no time setting him up for MEGADESTROYER and the elimination! Ouch!
Thriller enters at number 19!
Thriller does the smart thing and attacks Cosmos who is somehow still in this thing.
Cupid enters at number 20!
Cupid attacks Blazing Holocaust giving Spike a much needed breather. Spike makes a comeback and throws Blazing Holocaust through a portal and eliminating him.
Thriller turns his attention to Cupid and gets thrown through a portal for his trouble.
Spike and Cupid turn their attention to Cosmos when...
Infinity enters at number 21!
Infinity takes on both Cupid and Spike until the latter backs off. Cupid takes a ride through the portal for the elimination.
Infinity and Spike go at it with Spike nearly going through a portal.
Infinity-Plex enters at number 22!
Wasting no time Infinity-Plex demolishes an exhausted Cosmos and tosses him through a portal ending a hell of a run.
Infinity-Plex attacks Infinity and Spike joins in the beat down. It's not looking good until...
True Blue enters at number 23!
True Blue attacks Spike as Inifinity makes a comeback on Infinity-Plex! The four men battle it out until quietly...
Nikolai enters at number 24!
Nikolai sneaks around the Battlefield not getting involved and trying not to be noticed.
True Blue gets sent through a portal by Spike but comes back through another behind him! True Blue levels Spike with a lariat and a Cetus Suplex. Spike mounts a comeback and manages to pin True Blue following a MEGADESTROYER.
Elsewhere on the Battlefield Infinity and Infinity-Plex battle until Plex ends up in the Infinity Grip! He tries to escape but can't and taps!
Spike takes advantage of the situation, grabs Infinity and tosses him through a portal!
Spike celebrates thinking he's won it all! Nikolai attacks with Survivor Slashing and zaps Spike with the Cattle Prod! Spike goes down hard! Nikolai wastes no time picking up Spike and tossing him into a portal for the final elimination!

NIKOLAI WINS THE KRONOS PORTAL MATCH!

The Battlefield dissolves into our regular ringside area. Solaris is there waiting with the Crown of Kronos. He puts it on Nikolai who raises his cattle prod high zapping the air and screaming to the heavens!